It is clear that the global pandemic has changed the working environment for many businesses, employers and employees alike. The shift to remote working comes with both benefits and challenges but regardless, the general consensus is that remote working, at least to some degree, is here to stay. For example, a report by Microsoft Ireland from November 2020 entitled The Future of Work Report, revealed that Irish companies believe that 45% of their employees will remain working remotely even after the pandemic.
One of the biggest challenges to overcome with remote working is seamless communications between employers and employees, as well as customers and suppliers. This is where Voice Over Internet Protocol (VoIP) phone systems have played a significant role. This article aims to explain what VoIP Phone systems are and how they work, as well as some of the key benefits to be aware of.
So what are VoIP phones?
The acronym VoIP stands for Voice Over Internet Protocol and it has also become known as IP Technology. While traditional based telephone systems operate through a two-way copper wire system, VoIP runs through an existing internet connection. The technology converts a person's voice into a digital signal which allows a call to be made directly from a computer, a VoIP phone or data-driven device. In the most basic simple terms, it is a phone service that is delivered over the Internet.
There are many examples of VoIP that are used in mainstream circles both for work and social communications. Some of these include Skype, WhatsApp, Google Hangouts, Viber and Facebook Messenger. From a business perspective, a more robust and secure option is 3CX which is an open standard IP Phone System.
VoIP Phone Systems can come in two different forms:
Hard Phones are similar to traditional phones that would be found at an office desk or conference room. These can be used for direct calls, conference calls, accessing voicemail and communications through handsets, headsets, Bluetooth and speakerphones.
Soft Phones can be described as virtual phones that exist within an Application on a device such as a computer, tablet or smartphone. Once installed, these applications can then be used in the same way as a hard phone.
What's driving the change to VoIP phone systems?
Although the current global pandemic has accelerated the migration of businesses from traditional phone systems towards VoIP phone systems, the growing adaptability of people to technology has also been a driving force.
One of the key drivers of this shift is the potential savings that can be made for businesses of all scales. According to a recent survey published by financeonline.com, businesses had reported an average of 90% savings on international calls once they had made the switch to a VoIP phone system. In terms of local calls, the same survey revealed savings of up to 40% for small businesses.
There are encouraging statistics for small businesses starting out too with a potential 90% reduction in start-up costs for small businesses that use VoIP phone systems instead of a traditional landline. Teleconferencing expenses can also be reduced with businesses reporting a 30% saving in costs by integrating voice and online conferencing capabilities.
In what seems to be a clear indication that the future of communication within businesses will be VoIP phone systems, 90% of IT leaders have said they will no longer be investing in on-premises communication tools by the end of 2021. So the statistics speak for themselves – the potential savings for businesses choosing VoIP phone systems are too great to ignore.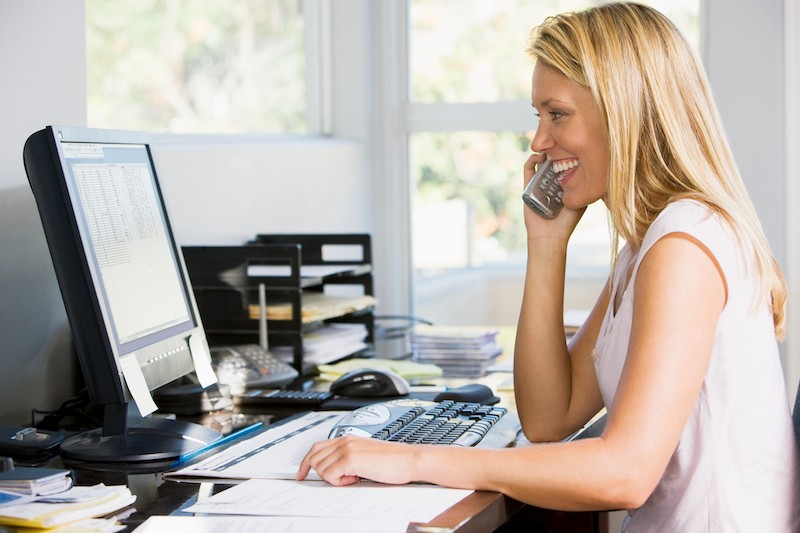 Key benefits of VoIP phone systems
We've already mentioned cost savings, but another key benefit of choosing a VoIP system is the freedom for the user. An employer or employee can make and receive calls from anywhere in the world, once they have an internet connection. Their virtual phone number travels with them wherever they choose to work.
Hardware often involves extra management and maintenance costs. With VoIP however, there is very little hardware if any required which in turn, results in reduced operating and start-up costs.
Oftentimes, the thoughts of change and upheaval can make teams frustrated and demotivated. Thankfully, VoIP systems are easy to install and set up and are easily integrated with other software applications meaning ease of use and less disruption.
Increased productivity is another key benefit that employers will be interested to hear about. According to the aforementioned survey conducted by Microsoft Ireland, 73% of business leaders noted an equal or greater level of productivity from remote workers, linked to strong communications.
This has quashed any fears that employers may have had regarding productivity and remote working in the past. And 68% of Irish business leaders stated that they believed that the option of remote working would play a key role in retaining talented employees.
Tailored To Suit Any Business
To sum up, it is evident that the future of business communications is VoIP. It can be a challenge to find the right phone system that will work for a business specifically and for the needs of the employer, employees and clients, especially given the scale of remote working.
The beauty of the 3CX system is that it can be tailored to suit any business and the wide range of features are all housed within one consolidated system. This will ensure that a business will have an efficient and smooth communications strategy to keep up with the growing demands of the economy.
To enquire about a new phone system for your business, give us a call on 01 906 0990 or email us at sales@OneContact.ie. Our team are standing by to help and ready to see if you can get a huge discount on your phone system.