With Covid-19 cases on the rise again, it seems that working from home will continue to be the norm for the foreseeable future. While many people enjoy working from home (WFH), others struggle with aspects like distractions, lack of privacy, or productivity constraints resulting from slow or unreliable broadband.
Amid talks of further lockdowns to keep the spread of the virus under control, now is a good time to take stock of your remote setup and to consider upgrading to a dedicated business broadband package for your home.
Basic tips for working from home
There are unique challenges associated with working from home, and it takes time and effort to create an environment in which you can thrive and be productive. In an office setting, the status quo is already established — there's a daily routine that lets everyone know what's expected of them, and it's clear when the work day begins and ends.
At home, people are responsible for creating their own routines and schedules, and it can be more difficult to set boundaries around work and personal life — getting up from your kitchen table doesn't have quite the same effect as clocking off and walking out the office door.
Creating a daily routine that you can stick to is crucial for WFH success. This might include starting your day with a walk or jog, followed by a shower and a cup of coffee before you sit down at your desk.
Make sure you take regular breaks throughout the day — factor these into your schedule and set alarms if you need to. It's also important to maintain regular working hours, get outside for fresh air every so often, and keep the lines of communication open between you and your colleagues and boss.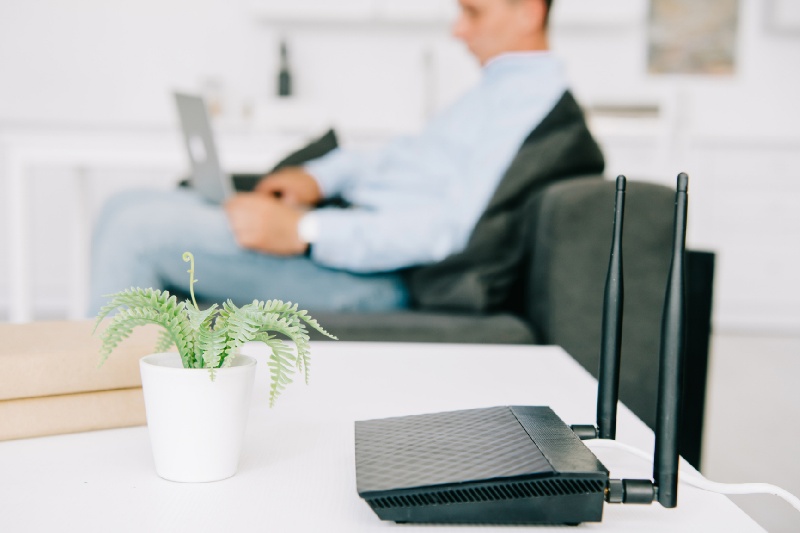 Broadband speed and bandwidth issues
Slow or patchy broadband is a common complaint for many people who are working from home. According to a ComReg survey published at the end of 2020, 77% of broadband users believe their home broadband is adequate to meet the needs of their household.
However, 56% of users would be willing to spend more to get better broadband service. This was a marked increase from 52% in September and 28% in April.
The survey also found that adequate mobile broadband (e.g. dongle) continues to be a challenge for the 12% of workers who require it to carry out work-related activities while at home.
The increase in VoIP calls and video conferencing puts an additional strain on people's home broadband service. According to Barracuda's 2021 Network Security Report, more than 75% of respondents who work from home have high-speed internet, but they still encounter difficulties, including slow apps, dropped calls, and poor video and audio quality.
Speed is a major factor for connectivity and call quality, and the amount of bandwidth available determines how many concurrent calls can be made. 10 Mbps of download speed and 1 Mbps of upload speed of dedicated internet bandwidth is generally the minimum required for each person working from home.
How to get the most out your broadband connection
If you don't have high speed broadband, there are initial steps you can take to ensure you're getting the most out of your connection. Firstly, make sure your router is working properly and in an optimal location. If you struggle with WiFi dead spots, you can use a powerline adapter to boost the signal.
You can also try connecting your device to the router via an Ethernet cable, though this requires physical proximity to work.
Here are some other tips you can try:
Limit the number of connected devices
If there are family members or housemates streaming media or playing video games during the day, this will slow down your connection and potentially affect your download and upload speeds. If it's not possible to disconnect their devices, you should at least consider changing the streaming settings from HD to SD.
Check your broadband speed
Running a simple speed test can tell you how much you can do on your device before things start to slow down. Slower broadband speeds won't be able to cope with a large volume of video and VoIP calls.
Check what's running in the background
Your computer and your broadband connection can both be slowed down by unnecessary programs, notifications, system updates etc. Be aware of culprits like Netflix or radio streaming services running in the background, eating into your bandwidth. If you're not using a program or application, ensure that you shut it down.
Benefits of business broadband
If you've tried all the tips and tricks and you're still struggling with slow or patchy broadband, then it may be time to consider establishing a secure home network. With no end to WFH in sight, you'll need stability, security, and speed — this is where business broadband comes in.
With a dedicated business broadband service, you can protect your home business, ensure you have the bandwidth required to work, and future-proof your WFH needs against the next lockdown.
At One Contact, we provide internet connectivity that is worthy of your business. We offer business broadband packages up to 10Gbps, and our expert support team takes ownership of issues if they arise, immediately mobilising and resolving the problem rapidly, often before you know there is one.
We know how damaging and disruptive it can be for a business when communications go offline, so we pride ourselves on the fact that our business broadband provides a secure and reliable service for VoIP users, every time.
As part of our business broadband, we offer all of the following from as little as €89 per month:
Enterprise-grade connectivity
Reliability
Speed and performance
Live monitoring
Accessible expert support
To find out how a business broadband package could benefit your business, get in touch with us today. Call 01 906 0990 or email info@onecontact.ie and we'll be happy to talk you through your options.