If you're running a business, you know that sales are the lifeblood of your company. Without a steady revenue stream, your business will quickly dry up and die, which is why it is crucial to have a strong sales team in place. But you also need to have the right tools in place to help them succeed, and business phone systems are a prime example.
A sound, unified business phone system is one of the most essential tools for any sales team. It can help you increase sales by improving communication with customers and prospects and increasing your visibility.
Let's explore how exactly the presence of a business phone system can elevate the capabilities of your sales team and ensure you never miss a sale.
Why are business phone systems crucial for making sales?
Your sales team is critical to the success of your company, so it makes perfect sense to ensure that their sales procedures are as streamlined and optimal as they can be. Most companies frequently examine their sales process to identify bottlenecks and sources of friction yet many completely overlook a vital element – a dependable business phone system.
Your business phone system, as well as everything else related to your company's sales team, needs to work flawlessly. Customers will be more likely to do business with you if your sales team is well-oiled, your system is user-friendly, and your salespeople have the required resources to do their jobs effectively and sell more of your products or services.
Furthermore, as a business owner, you understand that effective communication is critical to increasing profits and market share. And generally speaking, your business phone system is your team's primary means of communication with existing customers as well.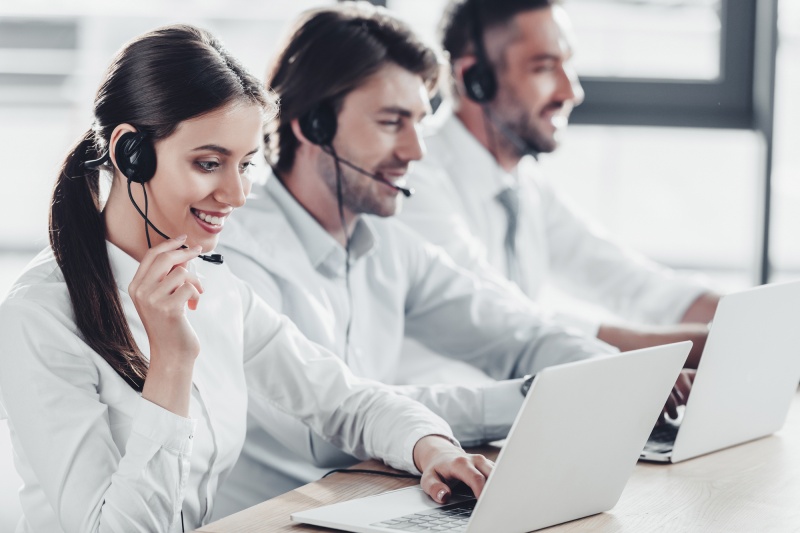 How business phone systems boost sales
Having a modern business phone system can help to boost your sales in many ways:
Modern features give sales teams more flexibility
A good business phone system will allow sales representatives to make and receive calls from customers as well as send and receive text messages and emails. This can be a big help when trying to close a sale with a customer and ensuring streamlined communications.
If the customer has questions the salesperson can't answer, seamless call transferring can allow them to speak to someone who can, without delay.
Modern phone systems also allow sales teams to answer calls and quickly respond to customer inquiries regardless of their location, which is especially important for employees working remotely or who travel frequently.
Analytics and reports show where improvements can be made
A business phone system can help businesses track call data and analytics, such as call volume, average call duration, first call resolution rate, etc. This information can identify patterns and trends to help businesses improve their sales process.
For example, if a business receives a high volume of calls but has a low first-call resolution rate, it may need to invest in additional staff or training to improve its customer service.
By understanding where calls are coming from, how long customers are waiting on hold, and which employees are handling calls effectively, businesses can make changes that will lead to more sales and happier customers.
The right business phone system can be a powerful tool for increasing sales and improving customer service.
CRM integration leads to a simplified sales process
Integrating business phone systems with CRM software can simplify sales processes and boost sales. By integrating the two systems, businesses can have a more efficient way of managing customer data and communication and this can lead to improved customer satisfaction and increased sales.
Some businesses may hesitate to integrate their business phone system with their CRM software because of the cost. However, the benefits of doing so almost always outweigh any financial drawbacks.
Integration can save businesses time and money by reducing duplicate data entry, improving employee communication, and providing a more streamlined way to manage customer information.
Overall, integrating business phone systems with CRM software provides many benefits that can lead to increased sales.
VoIP and Call Routing can reduce missed sales opportunities
With a VoIP system, businesses can take advantage of call forwarding and voicemail features to ensure they don't miss any calls. Call routing can also direct calls to the most appropriate person, saving valuable time.
In addition to being more efficient, VoIP and call routing can also save businesses money by avoiding the high costs associated with traditional phone lines.
Call routing can also help to reduce long-distance calling charges by directing calls to the most cost-effective route.
Reduces friction by speeding up customer interactions
By automating repetitive tasks, such as certain customer service calls, businesses can avoid irritating customers and prevent them from having to relay the same complicated set of circumstances over and over again.
In addition, by providing customers with faster access to information and customer service, businesses can reduce the time customers spend on hold or waiting for a response.
Companies have a far greater chance of boosting sales and improving customer satisfaction when customer interactions are streamlined and efficient.
One Contact – your provider of business phone systems
You can rely on One Contact to provide your business with bespoke, modern business phone systems to help improve the efficiency of your sales and communications.
Our VoIP business phone systems will help to ensure that you never miss a sales opportunity again, maximising your investment in your sales team. When combined with our dependable and secure Business Broadband, our VoIP services will keep you in constant contact with your customers.
Contact us today to set up a secure, efficient, and dependable business phone system so your customers can reach you whenever they need to.
Check out our blog and other resources to discover the latest developments in the world of communication technology.