As we come to terms with the idea that remote working will once again be the norm, we cannot afford to ignore the ever-present threat of cyber attacks. Now is not the time to get complacent — Irish businesses need to be proactive when it comes to cybersecurity, particularly if some or all of their employees are working from home (WFH) for the foreseeable future.
This article looks at some of the most common cyber threats facing Irish companies, and outlines some practical tips that can help to safeguard against malicious attacks.
Common cyber security threats associated with WFH
There's no doubt that working from home poses additional risks in terms of cybersecurity. A 2021 Network Security report found that companies with staff working predominantly from home had a significantly higher network security breach rate of 85%, compared to companies with staff working predominantly in the office, which experienced a 65% breach rate.
Our office buildings usually provide us with security measures such as firewalls and blacklisted IP addresses, but our home networks are often less secure than company networks. This leaves us extremely vulnerable to cyber attacks, particularly when you consider that many employees use their own personal devices for work more and more.
Other factors that increase the risk of malicious attacks include:
Personal devices
Employees having mobile app versions of Microsoft Teams, Zoom and other IM software on their personal devices. It's a good idea to keep work and personal usage separate, however tedious it may be to constantly switch devices.
Outdated operating systems
Employees working on personal devices that still use an outdated or unsupported operating system. These no longer receive security patches which puts your device and sensitive data at risk.
Fatigue and lack of motivation
Workers who are tired and distracted are more likely to suffer lapses in concentration and poor judgement. This can increase the likelihood of them opening a suspicious link or accidentally sending a confidential email to the wrong person.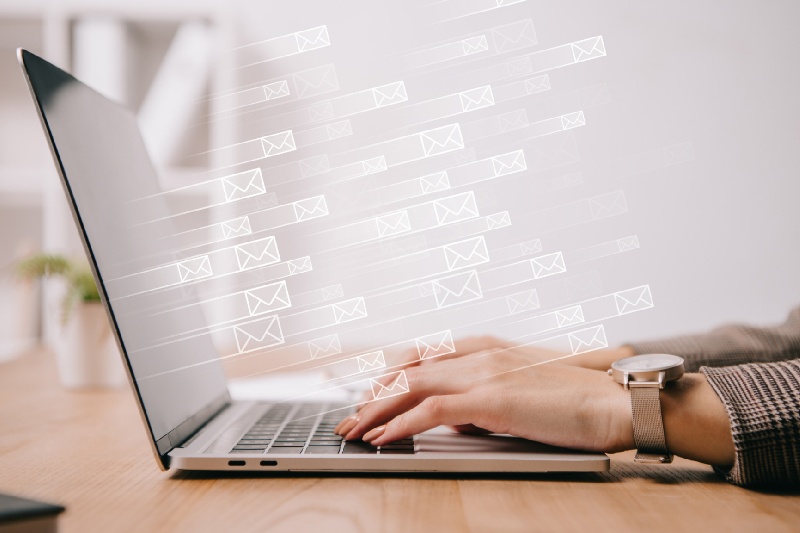 Potential consequences of a cyber attack
A malicious attack can cause major disruptions, often paralyzing an organisation for hours, days or even longer as they scramble to recover lost data. This can have devastating financial repercussions, with every hour of downtime potentially costing the business thousands of euro.
Cyber attacks can also result in losing customers who no longer feel they can trust the company with their confidential information.
One of the most prolific types of cyber attack at the moment are Ransomware attacks. In a recent survey of more than 200 Irish SMEs, Typetec found that a staggering 52% of them have paid a ransom to a cybercriminal.
The average ransom amount paid was €22,712 and even after paying, 27% of business owners were not able to restore all the affected data. Furthermore, 60% reported that sensitive data was leaked on the dark web despite paying a ransom, and 57% now keep a cryptocurrency reserve in case they are needed for this specific reason.
Businesses need to be proactive, ensuring that sensitive data is kept safe while also preparing for the possibility of long-term remote working. There are new and unique challenges associated with the pandemic, hybrid working and working from home, so putting a remote working policy in place will help to mitigate the risks.
How business broadband can help protect your organisation
There are many steps you can take to safeguard against cyber attacks, however, to ensure the highest level of security, protection and reliable connectivity for your remote staff, business broadband is a must.
A More Secure Connection
A dedicated business broadband service can take care of many of the security and monitoring aspects of your cybersecurity plan. Our business broadband comes with better security options and more proactive measures than home broadband, helping to ensure that your data and your network remains secure even with staff working from home.
Our live, proactive business broadband monitoring also highlights performance degradation which can flag issues even before you notice them, allowing us to resolve most issues before they turn into outages. So your WFH team can be as productive as ever.
Reliable Connection And Bandwidth For Data Backups
Having a reliable, high-speed broadband service can also allow you to properly implement professional data backup solutions across your entire workforce, in the office and at home, in a way that won't impact on your productivity.
With so many employees forced to work from home on such short notice at the outset of the pandemic, many companies realised that their data backup and recovery procedures were suddenly reliant on insecure and often unstable home broadband connections. As such, many struggled to implement sufficient backup and recovering policies.
Business broadband can allow you to maintain the integrity of your backup and recovery policies without impacting on the bandwidth available to your staff for their work and without impacting on their productivity.
Separating The Personal & The Professional
Most modern companies have internet policies in place for the workplace. These policies are designed to ensure that staff are using the internet safely when they are on the work network. But what happens when they are at home?
If they are using their home network, not only are they potentially contending for bandwidth with someone who might be trying to stream 4K in another room, but they might also be sharing their network with people visiting websites in a way that almost certainly does not align with your workplace internet policy.
This can leave their home network and your data open to cyber security risks that they wouldn't normally be exposed to. Business broadband can allow them to separate the personal broadband use from the professional use and help to protect your business from unnecessary cyber security risks.
Other ways to safeguard your organisation from cyber attacks
Employees working from home need to be aware of things like how to store devices safely and securely, how to create strong passwords, and what the organisation's policy is for visiting non-work-related websites.
Here are some other common sense practices you can implement in your organisation today:
Monitor your cybersecurity performance
This is particularly important when you have employees working from home — you need to know if they are adhering to your security policies while out of the office. If they aren't, this greatly increases the risk that sensitive information could be accessed by cyber criminals.
Invest in a professionally managed firewall & network
A firewall is a critical layer of protection between your network and the internet that protects your business against cyber attacks, protecting your business-critical information against unauthorised data access.
In order to keep your business secure it is vital that you invest in a business-grade firewall that is professionally installed and managed. And, if your network contains commercially sensitive data or personal data of your customers and staff as most businesses do, you actually have a legal obligation to protect that data.
Implement email, VoIP and webcam security measures
A survey by Auxilion reported that suspicious emails, scam calls and hackers gaining access to webcams are among the main security concerns associated with working from home.
The survey found that 30% of Irish workers admitted to clicking on a link or attachment in an email from a sender they didn't recognise, and according to Barracuda's Network Security Report, there has been a 600% increase in reported phishing emails since the end of February.
This is a worrying statistic when you consider that email is a prime candidate for spreading ransomware, spyware, worms, and various other types of malware.
Need Reliable Business Broadband?
Business broadband from One Contact is purpose-built for business use, designed specifically to cater for the advanced connectivity demands of modern businesses. We deliver secure, reliable transactions that protect both the company's and the client's money — all at an affordable price, even for small businesses.
To give your organisation the best possible chance of avoiding a cyber attack, speak to one of our team on 01 906 0990 or email info@onecontact.ie today.